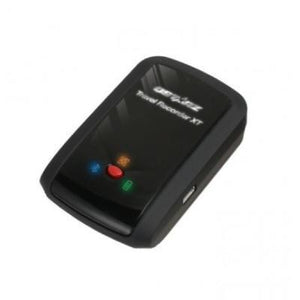 This product has been discontinued. Please order the replacement product Qstarz BL-1000ST instead.
BT-Q1000XT is a new age for the GPS Travel Recorder. It's not just an evolution, but more than
that, it's a revolution of Data Logger. Beside the current Q1000X features, Q1000XT integrate more
powerful and useful functions for people to record your travels.
Hardware Features:
• Adopt MTK II latest chipset with high sensitivity -165dBm and 66-Channel tracking

• Ultra lower power consumption up to 42hrs operation

• Less than 15-Sec. A-GPS fix support: download almanac data to realize faster TTFF and
positioning under warm start

• Stand-Alone travel recorder to log up to 400,000 records (*1)

• POI button design to record your point of interest immediately

• 3-level Switch for easily switch Travel Recorder to LOG or NAV (Navigation + Log) mode

• Raise beeper function to notice some status of device

• Integrate Vibration sensor to smartly manage power saving and waypoint saving (*2)

• Support Time schedule function to automatically start logging and stop logging by setting
multiple time interval in specific or periodic date per requirement(*3)

• Support Speed Alarm function to prompt over speed status by beeping sound

• Update Rate 1~5Hz changeable by utility provide d (receiving 5Hz update rate only, logging
only 1Hz maximum)

• G-Mouse + Bluetooth in one: wired and wireless GPS receiver

• Fast Position Fix ,Cold start 35s, Warm start 33s,Hot start 1s

• Personal/Portable Navigation (PDA, Smartphone, PC, etc.)

• DGPS(WAAS+EGNOS+MSAS) support

*1 The waypoints would be decreased when the more options of Log Format are selected

*2 Vibration sensor will detect movement status. When detecting device is not moving more
than 10 minutes, it will enter sleeping mode and stop logging for saving power and
waypoints. Please shake the device to wake it up. Vibration Sensor function is turned off by
default, and can be turned on by Software -> Config GPS.

*3 Time Schedule is functioned when you have set Log schedule via software and switch
device to NAV mode.
Software Features:

QTravel - Your Best Travel Mate

• The latest QTravelT is designed with Database structure which can collect and found all
track data easily.

• With built-in Google Map, Multi-language support, and Visualization UI

• QWizard interface for Utility to easily manage importing and exporting tracks

• QTray Plug-and-Play function to auto-activate QTravel software

• Auto track split function helps you organize your travel path

• Support Track Edit function allowing you to remove unnecessary waypoints

• Track playback function, changeable different track color and name

• Output your travel record as GPX / PLT / CSV / NMEA / Google Earth file format.

• Support Raw Data Manager for selecting necessary GPS parameter to record, view, and
output

• Support GeoTagging function for digital photo and generate KMZ file easily

• GPS configurable for Beeper, Vibration sensor, Time schedule setting
Documents: 
Driver Downloads: 
Software Downloads:
Sample Data Downloads: 
 Q&A
Q1


What's the difference between NAV and LOG?
A1
NAV : BT-Q1000XT can be used to navigate with handheld devices (PDA / Smartphone / Laptop), but the data log function is disabled.
LOG : BT-Q1000XT can be used to record your travel path and for navigation simultaneously.

Q2
I lost my travel charger and battery. Where can I find replacements for both?
A2
DC Input range of BT-Q1000XT is 4.5~5.5V. You can also use a common mini USB cable to charge your unit via the PC. Besides, the battery for BT-Q1000XT is compatible with Nokia phone series. The battery model is BL-5C.

Q3
How can I know if my memory is full?
A3

If you see the orange GPS light is turning from orange to solid red, then it means the memory is full.



Q4
Can the logged data be downloaded by Bluetooth?
A4
Actually it's okay for Q1000XT to download data via Bluetooth interface. However, since it is not stable and may have lower download performance than USB interface. We don't officially admit this feature.

Q5
How can I adjust my device to 5Hz mode?
A5

Please download the tool, "QstarzGPSView" from our website to adjust.



Q6
My navigation software does not support baud rate 115,200. How can I make it work via USB interface with Qstarz GPS?
A6
When Qstarz GPS is connected via USB interface, the baud rate is fixed and should be set to 115200. If your software does not support this baud rate, please connect the device via Bluetooth interface whose baud rate is changeable.

Q7
When I use QTravel software to read log from device, it appears "No Data in Device." Why?
A7
Q1000XT will not log invalid GPS data (GPS with no fix). So please make sure to log valid GPS data under open sky environment. If the logger still cannot log, please perform a reset in QTravel -> Config GPS.

Q8
My Travel Recorder cannot log 5Hz data?
A8
The update rate stands for the rate of GPS refreshing NMEA data received from satellites. Thus 5Hz update rate only means GPS can receive or refresh NMEA data 5 times per second, and it's irrelevant with 5Hz logging.

Q9
How can I set the time schedule function?
A9
Please set the BT-Q1000XT from Qravel->Config GPS->Schedule. Select the schedule you want, and change device switch to "NAV" mode. It will enter into sleep mode after 10 minutes for saving power and it will only wake up and start to record data when the time meets your preset time schedule.

Q10
Will your device work with the iPad or iPhone?
A10
Our device can support iOS by "Jailbreak" the iPhone/iPad and use the application "Roqy" to connect external Bluetooth GPS antenna to your iPhone/iPad. Please refer to the website below : http://www.roqy-bluetooth.net/wp/

Q11
Is there any way to get the software for a Mac?
A11
All of our software does not support mac OS.
The alternative way is using the following third party software.
Download log data:
http://www.houdah.com/houdahGeo/
http://sourceforge.net/projects/bt747
Geotag:
http://code.google.com/p/gpicsync/

Q12
Could you provide a Linux driver?
A12
So far all of our software does not support Linux platform. However, there is a third party software which is Linux compatible with our products. Below link is for your reference:
http://www.bt747.org/de/install

Q13
How can I change the NMEA sentence?
A13
Please download the tool "QstarzGPSView" from Qstarz website to adjust NMEA sentence.

Q14
How can I transmit log file to an android phone via Bluetooth? It is able to pair but cannot connect.
A14
Please download free software "Bluetooth GPS" and "Mytrack" from Android Market. Download the data files via Bluetooth from BT-1000XT to your Android smart phone. Please refer to the website below:
https://market.android.com/details?id=com.google.android.maps.mytracks

Q15
What is the "drift function" means?
A15
The "Drift" function is to correct the way points by deleting the low speed way points.

Q16
Why the track recorder's recorded track points is far away from the actual position?.
A16
The drift point may be caused by slow speed or when you stay at a fix position for a while.
Drift Filter can correct the GPS deviation especially when the GPS is situated in low speed status.

Q17
I get a message that says "FAILED TO CONNECT GPS MODULE. " Can you help?
A17

Please Check connection COM port at Windows Device Manager -> Com&LPT -> GPS USB…..or CP210X…… And manually select connection COM port at Software>Config GPS and test again.



Q18
I am having trouble to Upload AGPS data. What can I do?
A18

Please download QstarzGpsView from Qstarz website and download AGPS from Setup->Update AGPS



Q19
How can I geotag my photos?
A19

The GPS real time is based on UTC/GMT+0 time. What you have to do is to change UTC/GMT to your local time zone by selecting Display time zone in software.
And set the correct local time with your camera. When you import the pictures from your camera, the photo time will be synchronized automatically with the local time.



Q20
How can I set the time on the GPS unit?
A20

Sorry, you could not set the GPS time, all of our GPS products is using the universal UTC/GMT time.
http://www.worldtimeserver.com/current_time_in_UTC.aspx This means no matter where you use the device, the GPS time will be the same (UTC/GMT time) and the GPS device time could not be changed or modified.



Q21
How can I turn off the buzzer?
A21

Please turn off the buzzer from QTravel ->Config GPS and uncheck the "Turn on buzzer" function.



Q22
How can I turn off the Vibration Detector?
A22
Please disable the Vibration Detector from Software->Config GPS-> and uncheck "Turn on Vibration Detector"


Q23
Why am I getting the Google Maps API error message pop up and cannot use the map function, what can I do?



A23
Please download and update to the latest version of the software from our website to solve this problem.