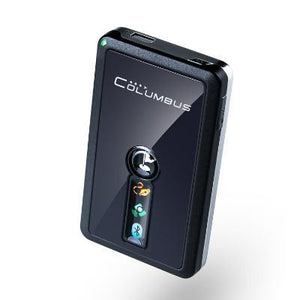 Columbus V-900 Bluetooth GPS Data Logger is the world first data logger with Voice-Tag function for adding your personal voice labels to any waypoints. It is easy to use, compact, and provides excellent GPS performance. You name it, the Columbus V-900 data logger records almost all available GPS parameters such as: Date, Time, Latitude, Longitude, Altitude, Speed, Heading, Fix Mode, PDOP, HDOP, VDOP and Voice!
Software compatibility: The Columbus V-900 is compatible with nearly any GPS mapping software
available and fully compatible with NMEA standards (all versions). The included Time Album data logger
application is compatible with Windows XP, 2000, Vista, Windows7, Linux, Mac OS and Mac OS X
Hardware compatibility: Works with Windows XP, 2000, Vista, Windows 7,  Linux, Mac OS and Mac OS
X with a SD Card Reader to download logged data and Bluetooth is required to use the Columbus
V-900 as a GPS receiver.
Technical Specs:
Chipset: 66-channel MTK 2 with WAAS/EGNOS/MSAS support
Sensitivity: -165dBm
Time To First Fix (Hot / Warm / Cold): 1 / 38 / 42 seconds
Non DGPS Accuracy: 3m/CEP (50%); 5m/CEP (95%)
DGPS Accuracy (w/ EPS technology): 1.5m/CEP (30-50%); 2.5m/CEP (95%) with EPS Technology
Altitude Limit: 18,000 meters (60.000 ft)
Velocity Limit: 515 meters/sec (1,000 knots)
Protocol: NMEA V3.01
Baud Rate: 38,400
Package Content:
V-900 GPS
USB MicroSD reader
Charging Cable
Carrying Strap
Protective case
Car charger
Documents: 
Driver Downloads: 
Software Downloads:
Sample Data Downloads: 
 

Q&A




Why are the tracks not 3D?

According to the default setting of "Settings" – "Advanced" in your "Time Album", 2D tracks are exported. To export 3D tracks, simply click "3D".

Why can't I show the track points logged in the Fly Mode?

You must click the "Fly Mode" before exporting a track logged on a plane (you should restart the "Time Album").
| | |
| --- | --- |
|   | Blogs: |
| | |