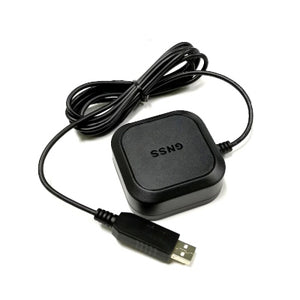 TOP608BT is an easy to use GNSS receiver for centi-meter level positioning. Perfect for autonomous driving, navigation, data logging and any other applications where there is a clear view of the sky. TOP608 can be used by simply connecting to an usb port of your computers. Furthermore, the built-in bluetooth enables the user to use the TOP608BT with their choice of GIS/GPS applications on an Android phone or tablet. 
Below screenshot shows a high accuracy track within a parking lot which data was captured by a TOP608BT GNSS receiver.
When to use TOP608BT as a standalone GPS/GNSS receiver?
You can use TOP608BT as a normal GPS receiver. Without using RTK correction data,  The horizontal positional accuracy is around 30cm. This is incredibly precise for a single receiver and should be adequate for many projects. 
If 30cm accuracy is what you need, you can safely ignore its RTK configuration, just simply connect the TOP608BT to a Windows Computer or Android device by usb or bluetooth.  That's all you need basically.
When to use TOP608BT as a RTK GPS/GNSS receiver(RTK rover)?
When you need better accuracy than 30cm and you can connect TOP608BT to a correction service, for example, connecting it to a NTRIP caster, you could obtain an "RTK fix" state which has up to 14mm of accuracy. 
In Summary, the TOP608BT accuracy  could be
GNSS Positioning (~30cm accuracy)

GNSS Positioning with RTK (up to 1.4cm accuracy)
Below screenshot shows the Deviation Map when TOP608BT got the "3D/DGNSS/FIXED". 
The actual meaning of the Fix Modes status:
"3D" fix mode:  3m CEP accuracy, no RTK
"3D/GNSS" fix mode:  2.5m CEP accuracy, no RTK
"3D/DGNSS/Float"  fix mode: 20cm CEP, RTK position stabling
"3D/DGNSS/FIXED" fix mode: 2cm CEP,  RTK position stabled
Below screenshot shows the 4.58 cm horizontal accuracy by using TOP608BT.
What is main difference between a RTK GNSS receiver and a traditional GNSS receiver?
The main difference is RTK GNSS takes in the correction stream, but traditional GNSS doesn't.
RTK is short for real time kinematics. A RTK capable GNSS receiver takes in the normal signals from the Global Navigation Satellite Systems along with a correction stream to achieve 1cm positional accuracy. GNSS includes satellites from GPS (USA), GLONASS (Russia), Beidou (China), and Galileo (Europe). On top of these signals an RTK receiver takes in an RTCM correction stream and then calculates your location with 1cm accuracy in real time.  
RTK is a technique used to improve the accuracy of a GNSS receiver. Traditional GNSS receivers, like the one in a smartphone, could only determine the position with 2-4 meters (7-13 feet) accuracy. RTK can give you centi-meter accuracy.
Why can RTK GNSS achieve so much better accuracy than standalone GNSS receivers?
GNSS receivers measure how long it takes for a signal to travel from a satellite to the receiver. Transmitted signals travel through the ionosphere and atmosphere and are slowed down and perturbed on the way. For example, travel time on a cloudy day and in clear sky conditions would be different. That is why it is difficult for a standalone receiver to precisely determine its position. 
RTK(Real Time Kinematic) technology solves this issue by using correction services. In the RTK method, a user receiver gets correction data from a single base station or from a correction service from Internet. It then uses this data to eliminate most of the GNSS errors. RTK is based on the principle that the base station and the user receiver are located close together (maximum 40 km or 25 miles apart) and therefore "see" the same errors. For example, since the ionospheric delays are similar for both the user and the reference station, they can be cancelled out of the solution, allowing higher accuracy.
Which correction services do you recommend for TOP608BT?
We highly suggest the GR-9028 Portable RTK Base for your very own NTRIP correction service. It works perfectly with the GR-9029 RTK Rover to give you a complete RTK solution. Set up quickly, flexible NTRIP caster mount point, and easily deploy it near your rovers for super accurate correction data. This will totally revolutionize your RTK needs. See it here and gain control of your RTK solution!
Other than GR-9028, there are still many NTRIP correction services publicly available. Free of charge or by a small fee. They share correction data over the Internet. This technology is called NTRIP.  NTRIP is a good option for areas with 3G/4G LTE/5G network coverage and a vast network of NTRIP bases nearby. 

Below are the NTRIP correction service sources for your reference: 
- Rtk2go (free service, world wide coverage)
- UNAVCO (free service, US coverage)
- A List of Public RTK Base Stations in the U.S.
Which NTRIP client do you recommend for TOP608BT?
We recommend Lefebure NTRIP Client.
Actually, most NTRIP clients in the market are capable. For example, the Ntrip client in ublox U-center.

Below is the screenshot of the Windows version of Lefebure NTRIP Client with "RTK FIXED".
Do you have a sample setup of U-Center NTRIP client?
Yes, please see the below screenshot.


Do you have real-world scenarios for using TOP608BT RTK GNSS Receiver?
Yes, below are the 5 sample setup scenarios:
1. Use a RTK GNSS receiver (TOP608BT) for Android. Click
here
for step by step  instructions.
2. Use a RTK GNSS receiver(TOP608BT) for a Windows 10 Laptop. Click
here
for step by step instructions.
3. Connect
a RTK GNSS receiver(TOP608BT) 
to a Windows Laptop (Ntrip via another Android device). Click
here
for the step by step setup instruction.
4. Connect a RTK GNSS receiver(TOP608BT) to a Linux machine (Ntrip via another Android device). Click here for the step by step setup instruction.
5
. High accuracy data logging by using a RTK GNSS receiver(TOP608BT). Click here for the step by step setup instruction.
Do you recommend TOP608BT configured as a RTK base station?
TOP608BT supports RTCM data output, technically, it can be configured as a RTK base station. but we do not recommend / support that. The built in antenna of TOP608BT is just a compact size's one. RTK base stations usually need a surveying grade dish antenna. TOP608BT is designed to use as RTK rover.
Technical specs:
GPS Module: ublox ZED-F9P
Channels: 184
Constellations: GPS:L1 ,L2, GLONASS:R1,R2, GALILEO:E1B,E5B, BEIDOU:B1,B2
Data Formats: NMEA0183, RTCM, UBX
Position Accuracy:
With RTK:  0.01 m +1 ppm CEP
Without RTK:0.2-0.5 m
CEP Convergence Time:RTK <10 s
Baud Rate:38400(default)configurable
Navigation Update Rate:1HZ(default)configurable up to 20HZ
Magnet Base: yes
Connection Interfaces: USB,  Bluetooth
Cable Length:3 m
Dimension:68 mm x 68 mm x 29 mm 
Weight: 196 g
Compatible OS:
Windows 7, 8 10 and 11

Linux

Android
Youtube videos: 
Documents: 
Driver Downloads: 
Software Downloads: