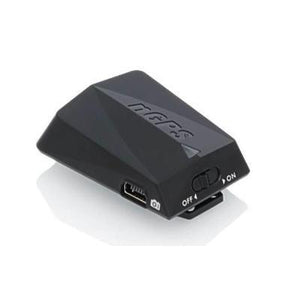 Columbus nGPS Geotagging GPS (Direct Connect to Nikon & Fujifilm Digital SLRs (Remote Cord Included)
nGPS is mounted on the hotshoe attachment of a camera to automatically integrate geographical information into any photo being captured; that is, to stamp the latitude, longitude, altitude, and time information of the capturing place in the photo. It supports both NEF and JPG formats.The photo can then be directly located and viewed in ViewNX, Google Map, iPhoto, Panoramio, Flickr, Picasa or similar software without being converted using any additional, tedious software.
Overview
•Instant geotagging to both RAW and JPG - no computer / post processing required
•High sensitivity MTK chipset for fast accurate positioning in urban canyon and foliage environment. Cold Start time is as quick as 35sec.

Provides latitude, longitude, elevation (altitude) and date/time information (UTC)
Low power consumption with compact design
Short initial startup time, no setup required, use-friendly
No longer need to remove the GPS plug in order to swap it with a remote cord
Note 1: nGPS does not provide heading information.
Note 2: Nikon ViewNX software is not included with this product. Instead it may come with your Nikon DSLRs.
Connet the Columbus nGPS to your Nikon DSLR and the GPS location of every shot will be automatically added to the photo.
It geotag both RAW and JPG files at the same time.
The Columbus nGPS is a compact GPS device designed to slide into the hot shoe or attach to the strap of your Nikon and Fujifilm DSLR cameras.
Nikon: D600, D3200, D4, D800(E), D3S, D3X, D3, D700, D300S, D300, D2Xs, D2X, D2Hs, D200, D90, D7000, D5100, D5000, D3100, 
Fujifilm: FinePix S5 Pro
Unlike competing GPS receiver for Nikon DSLRs, the Columbus nGPS comes with a quality remote cord included.
The benefit: You get a great combo value of 2-in-1 package (GPS and Remote Cord). In addition, you no longer need to remove the GPS plug in order to swap it with a remote cord.
So, make no mistake, this is a vastly more intelligent product than the cheap copies you may see elsewhere, which are no more than a GPS module in a box!
The included remote cord adds greater convenience and ease of use in a wide variety of shooting situations, including long exposures and close-ups.
The remote also features a lock, which keeps the camera shutter in Long Time Exposure (Bulb) mode.
By using a remote cable you can reduce camera shake, which results in sharper images.
Geotagged photos may be viewed on Flickr, Google Picassa, Apple iPhoto, Yahoo!, Photoshop Elements, and many other photo viewing apps that can display EXIF header values.
Photos uploaded to Flickr or Picassa network albums can get mapped automatically to the Google or Yahoo maps.
Package Content:
Documents: 
Software Downloads: