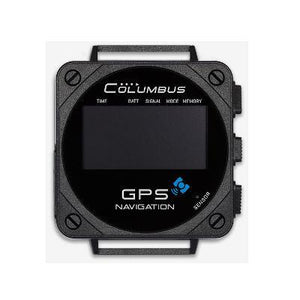 Columbus V-1000 GPS location, Barometric Pressure, Altitude, Speed & Temperature Data Logger (POI Navigation, GPS-time, Windows, MacOS and Linux Compatible)

Features:
POI navigation. Provide full-time and all-weather POI (Point Of Interest) navigation,16 direction arrows and 16pcs POI.
Six logging modes. "Walking", "Running", "Cycling", "By car", "By plane" and "User defined".
1.5 inch OLED display screen, easy-to-read design to read under strong light.
Unique design for runners with "one-button" initiating running tracks.
Interchange of multiple formats. Formats of original tracking files: CSV, GPX and GPS
USB fast-reading design. The tracking files are named with date and time.
Geotagging. Suitable for all brands of digital cameras available in the market.
Equipped with barometric and temperature sensor, measure the altitude more accurately.
Provide time of sunrise/sunset and moonrise/moonset.
Brand new track tool "TimeAlbum Pro", compatible with Windows, Mac OS and Linux. New Google Maps/Satellites view.
Vehicle-mounted auto ON/OFF function, no need of manual power management.
MTK3339 GPS chipset with high-performance integrated with EPS (Enhanced Position System) by Columbus.
Only 1 second of deviation in 100,000 years.
Attached a meticulously-woven NATO watchband.
Please download and experience the original tracking files recorded by V-1000:
Technical Specs:
GPS Performance:
MTK3339
66-channels
Sensitivity better than -165dBm
Built-in active antenna

Positioning Ability*
Cold Start: 35 seconds
Warm Start: 32 seconds
Hot Start: 1 second
Reacquisition: <1 second
Non DGPS (Differential GPS): 3.0m/CEP(50%) 5.0m/CEP(95%)
With DGPS corrected (EGNOS / WAAS): 1.5m/CEP(30-50%)
2.5m/CEP(95%)
*with EPS3 technology

Logging Data
Geodesics WGS-84
Date
Time
Latitude: (0.000001 degree)
Longitude: (0.000001 degree)
Altitude: -1,000 ~ 18,000 meters -3280 ~ 59000 ft (1 meters / 3ft)
Speed: 0 ~ 1,850 km/h; 0~1180 mi/h (0.1km / 0.1mi)
Heading: 0 ~ 359 (1 degree)
Pressure: 300 ~ 1100 hpa (0.1 hpa)
Temperature: -20 ~ +50 °C; -4 ~ +122 °F (1° C / 1°F)

Sensor
GPS
Pressure Sensor
Temperature Sensor

Waypoints amount*
Walking (calorie, steps, distance, duration)
Running (calorie, pace, distance, duration)
Cycling (calorie, pace, distance, duration)
By Car (points, distance, duration))
By plane (points, distance, duration)
User Defined (by times, by distance with speed mask)

Power and Battery
Built-in 500mAh rechargeable lithium-polymer battery
Duration times*:
Sensor mode: 1 week; GPS mode: 16 hours
Charging time: Approx 2.5 hours
Power Supplies: 5V 300mA
* When the "Screen off" starts up.

Weight
30g


System Requirements
Internet access
Mac: OS X v10.7 or later
PC: Windows 7 or later
Linux: 2.6.12 or late
Time Album Pro software included: 
"TimeAlbum Pro" is Co-developed by Columbus and RouteConverter, a famous GPS software in Germany. Equipped with the most advanced track editing function and personalized settings with the ability to provide the latest and multiple maps, "TimeAlbum Pro" can assist in your background work, and can efficiently convert, manage and plan the tracks. The "Time Album Pro" software is compatible with Windows, Linux and Mac OS
Time Album Pro features:
Over 14 map patterns to view the tracks: Google Maps, Google Satellite, OSM Map, OSM Contour Map, etc.
Brand-new track list model to show information of tracking data.
Brand-new display of tracks which includes: special points such as start point and end point of tracks, POI point, photo point, voice point (V-900/V-990 recording) and P point (parking point).
It is allowed to personalize settings on checking, editing and converting of the tracks.
Supports over 20 GPS track file formats, as well as formats converting of most common GPS data logger in market.
Upgraded Geotagging. The Geotagging and view are more convenient, and you can view the shooting location and EXIF information directly on the map.
You can add GPS coordinates on the EXIF information of the digital photo, which supports most common models of digital cameras in the market.
Additional function: automatic correction of deviation problem of Google Maps and Google Satellite in Mainland China.
Supports 16 languages.
Supports the whole series of Columbus GPS data logger: V-900, V-990 and V-1000.
Easy to install with cross-platform and extensive compatibility: Windows, Linux and Mac OS.
Supports statute, nautic and metric.


Package Content:
V-1000 Wearable GPS Data Logger
Micro-USB Cable
Watch Strap (22mm, NATO Standard)
Quick Start
Youtube videos: 
Documents: 
Software Downloads:

Sample Data Downloads: