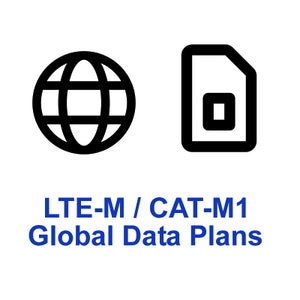 LTE-M GPS / GNSS trackers require special SIMs and Data Plans to operate.  We've partnered with a global LTE-M mobile operator to offer  6 prepaid LTE-M / Cat-M1 data plans for our customers. Tracking platform subscription is included in this prepaid tracking subscription plan.
5Mb/month for 3 months     ---- $25.54
10Mb/month for 3 months   ---- $29.18
15Mb/month for 3 months   ---- $32.83 
5Mb/month for 12 months    ---- $93.63
10Mb/month for 12 months  ---- $107.01
15Mb/month for 12 months  ---- $120.38
Select a prepaid plan from the drop-down box above the "ADD TO CART" button. 
After ordering, please email us your GPS tracker's order number, we will top up your  account. 

Why LTE-M?  Why Not 2G, 3G or 4G LTE?
LTE-M is the new 3GPP standard of Low Power Wide Area Networks optimized for medium to low-bandwidth IoT device communication. Amid global 2G and 3G sunsetting, LTE-M introduces a future-proof alternative for growing mobile and stationary IoT applications across verticals.
Extended range
15 dB higher sensitivity than LTE, providing better indoor and underground penetration and improved coverage in rural areas.
Low power consumption
Power Saving Mode (PSM) and Extended Discontinuous Reception (eDRX) features enable a longer battery life.
Reduced device costs
30% cost of LTE modules thanks to lower bandwidth use and less complex radio signal processing.
Low latency
Highest data rate of any LPWAN technology to enable mission-critical applications and flexible upgrade of device use cases.
Excellent mobility
Seamless cell handover supporting mobile devices at up to 300 km/h velocity.
Small form factor
Smaller-sized modems that fit in compact, modular IoT sensor devices.
Global LTE-M coverage by our network partner
Last updated: April 30, 2021
As of today, our network partner provides multi-network LTE-M connectivity in 44 countries across five continents with a global IoT SIM. We offer four different service levels (expected, observed, validated, and guaranteed coverage*) depending on your deployment location and advise you on network coverage, quality, and availability in line with your IoT project.
Below table shows the LTE-M footprint for North America.
For Global LTE-M footprint, please download this PDF file. 
* Service Level / Coverage Status Definition
Expected: LTE-M roaming is theoretically possible based on standard 4G implementations.
Observed: LTE-M traffic from customers has been observed for this network. 
Validated: LTE-M availability is frequently tested and confirmed for this network.
Guaranteed: LTE-M service is guaranteed with dedicated roaming agreements.
** All coverage data is provided for informational purposes only and are subject to change. Actual service coverage, quality, and availability may vary based on factors such as network partners' technology roll-out, weather, interference, topography, and device model.