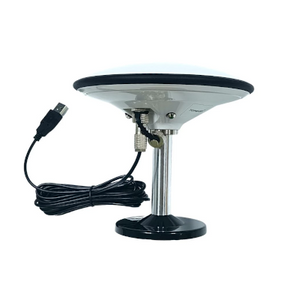 TOP168 RTK GNSS receiver can reach up to 1.4cm positioning accuracy. It integrated a u-blox ZED-F9P RTK Module with a high-precision multiband "ufo" antenna. The 168mm  antenna  can effectively reduce the GNSS signal "phase delay" or "missing phase center" issues, which made TOP168 an excellent candidate to be set up as a RTK base station.  

TOP168 has 184 channels, receiving data from 4 constellation satellite positioning systems including GPS, GLONASS, Galileo and Beidou. It outputs RTCM and NMEA0183 protocol via USB and Bluetooth. 
Setup your own cost-effective NTRIP / CORS solution

Is your NTRIP service subscription plan too expensive to afford? Or if your most available NTRIP Caster mount point is too far away? If the answer is yes, you should set up your own NTRIP / CORS solution.
Below is the end to end RTK base station NTRIP solution. It consists of
1 x TOP168 RTK GNSS Receiver
1 x SNIP server software (free)
1 x NTRIP Caster internet mount point (free)
Your cost of the solution is just a TOP168 RTK GNSS receiver ($699), a Windows computer and Internet access.
To set it up, please follow the below step by step instructions.
2. Setup a NTRIP caster mount point, please refer to our blog post below.

How to set up your own Internet NTrip Caster mount point "free"?
The solution is easy enough, more people could set it up in a few hours. After that, you will have a NTRIP caster mount point which could be closest to you. The RTCM correction data it provides could help your rovers nearby get very incomparably high accuracy.
We tested the above setup & got a pretty satisfaction result. we achieved 0.0141m horizontal accuracy in our RTK rovers. Please refer to the below screenshot.
RTK base station calibrating options
Option 1: Survey-in
If you deploy a TOP168 in a temporary location, you could use the "Survey-in" calibration option. TOP608 will acquire the position by itself and run as a RTK base station in a few minutes.

Option 2: Fixed Mode
If you deploy a TOP168 in a permanent location,  you could use the "Fixed Mode" calibration option. You could use TOP168 to collect hours of RAW data and send it for the PPK process. (There are many free PPK services online these days. For example: CSRS-PPP ) After receiving the PPK process result, you could manually key in the location data into the TOP168. This option could need more time, but it is more accurate.

RTK reference station ARP(Antenna Reference Point) setup could never be so easy. 

Application scenarios: 
High-precision GNSS data collection, 

High-precision navigation positioning,

High-precision driving,  

Unmanned patrol vehicle, 

Unmanned logistics robot, 

UAV/Drone formation flying base station, 

Precision agriculture
Technical specs:
GNSS Module: U-Blox ZED-F9P
GNSS Frequency:  GPS L1/L2,GLONASS G1/G2,BDS B1/B2,GALILEO E1/E5b, SBAS L1/L2,QZSS L1/L2

Constellations: GPS+GLONASS+BDS+GALILEO+SBAS+QZSS 

Channels: 184 Search channel 

Tracking sensitivity:  -167dBm 

Capture sensitivity:  -160dBm 

Accuracy/Precision 
Horizontal accuracy:
RTK 0.01 m + 1 ppm CEP 
Speed accuracy: 0.05m/s
Start Time 

Cold start: < 32s, 
Warm start: < 25s 
Hot Start: < 3s 
Output

Baud rate: 4800bps - 921,600bps (Default 38,400bps) 
Output protocol: NMEA0183,UBX, RTCM 3.3
NMEA Data: RMC,VTG,GGA,GSA,GSV,GLL 
Output rate: 0.25Hz - 20Hz. (Default 1Hz, support settings: 1HZ, 5HZ, 10HZ and  15HZ)
FLASH built-in: Save setting parameter configuration settings 
Carrier phase: Support output RAWX statement 
Work environment 

Height: ≤50,000m 
Speed: ≤500m/s 
Acceleration: ≤4g 
LED status: 
Red light ON: power on
Red light flashing: positioning completed
Green light ON: RTK fixed
Green light flashing:  Data transmission is ongoing. (Only for the TOP168 edition which has a built-in data transmission module.)
Power consumption
Voltage: DC 5.0V, 
Current: 135mA/5.0V 
Connection: USB,Bluetooth
Dimension

Size: 168 x 65 mm 
Weight: 370 grams 
Cable length: 3 meters (Default)
Waterproof level: IPX67 

Operating temperature: -40 °C ~ +85°C 

Installation threaded hole: 5/8-11UNC 

Compatible OS:

Package Content

1 x TOP168 RTK GNSS receiver 

1 x Strong magnet 
pedestal
1 x Fixed pole (3 inch = 7.62cm)
1 x GX12 to USB adapter cable (3 meters)


Youtube videos: 
Documents: 
Driver Downloads: 
Software Downloads:
Instructions and Articles: