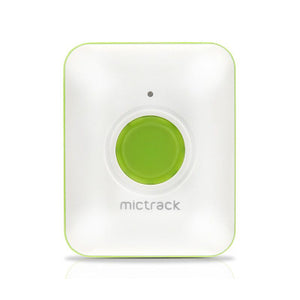 This is a ready-to-go tracking solution. Including  
MT825 mini GPS tracker (you own it)
Tracking software platform subscription
LTE-M cellular data subscription
To extend the subscription, just buy our prepaid subscription plan when needed. 
MT825 is a Mini GPS tracker that uses the latest CAT M1 (LTE-M) technology that can provide low power consumption and optimized data transmission at low cost. The parents or pet owners can track the unit via their smartphone even if far away. With the hybrid positioning system, GPS and WiFi allow getting a more precise location. It can be used for personal and Assets tracking.


Features:
Super low power consumption
It uses LTE-M and Cat M1 technology that can provide super low power consumption up to 5 months standby time powered by internal batteries.
Indoor and underground penetration and rural coverage
LTE-M trackers are future proof trackers. Compared to the traditional 4G LTE network, LTE-M network has better indoor and underground penetration. Furthermore, it also improves the coverage in rural areas. 
Indoor WiFi positioning
When the tracker is indoor and without GPS/GNSS satellite signal. It will automatically switch to WiFi Positioning mode. 
Web, Android & IOS Track and Trace Software platform
You can login to the tracking platform by using Desktops, iphones or Android phones. Our Tracking platform is powered by AWS cloud. The most advanced and stable cloud in the world. The connection between your device to the platform is secured by TLS.  
GPS Tracker Specification
Dimension

50(L)*40(W)*16(H)mm

Weight

36g

Power Connector

Magnetic charging DC 5V

Backup battery

3.7 V 680mAh





Frequency bands

Cat M1 (LTE-M, eMTC) :

LTE FDD: B1/B2/B3/B4/B5/B8/B12/B13/B18/B19/B20/B26/B28

LTE TDD: B39




NB-IoT (Cat NB1):

LTE FDD: B1/B2/B3/B4/B5/B8/B12/B13/B18/B19/B20/B26/B28




GSM: 850/900/1800/1900Mhz

Positioning

GPS, WiFi, LBS

GPS sensitivity

-162dBm

Channel

56

Positioning Accuracy

10m

Cold Start

30s

Warm start

15s

Hot start

1s

Working temperature

-20°C to +65°C

Humidity

5% to 95% non-concretion

Antenna

Internal LTE CAT M1 & NB-IoT & GPS antennas

Sensor

3D accelerometer sensor

LED

RED(Charge), GREEN(Cellular and GPS)

Waterproof

IP65

SIM Card interface

Nano SIM

Certificate(Module)

FCC/PTCRB/AT&T/Verizion/T-Mobile/Vodafone
Cellular network coverage
LTE-M coverage by our network partner
Last updated: April 30, 2021
As of today, our network partner provides multi-network LTE-M connectivity in 44 countries across five continents. We offer four different service levels (expected, observed, validated, and guaranteed coverage*) depending on your deployment location and advise you on network coverage, quality, and availability in line with your trackers deployment.
Below table shows the LTE-M footprint for North America.
For Global LTE-M footprint, please download this PDF file. 


* Service Level / Coverage Status Definition
Expected: LTE-M roaming is theoretically possible based on standard 4G implementations.

Observed: LTE-M traffic from customers has been observed for this network. 

Validated: LTE-M availability is frequently tested and confirmed for this network.

Guaranteed: LTE-M service is guaranteed with dedicated roaming agreements.
** All coverage data is provided for informational purposes only and are subject to change. Actual service coverage, quality, and availability may vary based on factors such as network partners' technology roll-out, weather, interference, topography, and device model.
Why is LTE-M the best cellular network option for trackers?  Why Not other cellura network like 2G, 3G,4G LTE or NB-IoT?
LTE-M introduces a future-proof alternative for growing mobile and stationary IoT applications across verticals. Compared to  2G, 3G & 4G LTE, LTE-M has the below advantages.
Extended range
15 dB higher sensitivity than LTE, providing better indoor and underground penetration and improved coverage in rural areas.
Low power consumption
Power Saving Mode (PSM) and Extended Discontinuous Reception (eDRX) features enable a longer battery life.
Low latency
Highest data rate of any LPWAN technology to enable mission-critical applications and flexible upgrade of device use cases.
Excellent mobility
Seamless cell handover supporting mobile devices at up to 300 km/h velocity.
Why not NB-IoT?
NB-IoT data rate is very low & it doesn't support cell handover, it is not as good as LTE-M for Tracking solution.
Track and Trace Platform
Our Tracking platform is running on cloud. It provides the below features: 
Real time trace and track is available from desktops & mobile phones. The connection between your device to the platform is secured by TLS.  

Geo-fencing

Email notification

History tracking data available for the last 3 months.

Tracking data can be downloaded.

Daily schedule backup
 Below are the screenshots of our Track and trace Platform:
Web Management Console
Login screen
Realtime Track and trace
GeoFencing Setup
GeoFencing Notification Setup
Inside the GeoFencing area
Exiting Geo-fencing area
Historical data showing
Historical data summary
Historical speed chart


Iphone/ipad app (Traccar Manager) free download from Apple App Store: 
Android app (Traccar Manager) free download from Google Play:

Configure options:
Tracker report frequency           Battery runtime estimate
1 transmit per day ---                   4 to 5 months
1 transmit per hour ---                 6 to 7 days
1 transmit per 10 minutes ---      1.5 - 2 days

The default config is 1 transmit per 10 minutes. If you want to change to another frequency, please email to info@canadagps.ca . 

Order processing requires 1 to 2 business days for device testing, activation, configuration, and user setup. Once processing is complete, devices will be shipped by the shipping method you selected. Meanwhile, we will send you a welcome email with the tracking platform login.

 Documents: